hey all i havent been in this thang in a MINU?TE!
lemme add some pics n such and ay... check out my new site at XANGA... its got that hottness
http://www.xanga.com/home.aspx?user=Blu_Yank_575
me n my bestest furend KERI i miss u girl!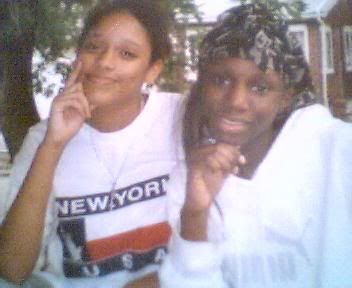 me with my hair straightened
well now that thas over with... lemme fill u in on a bit.. hm.. i been busy doin some shit in orlando just got back and now i have a situation with my boy E and J wants to holla at me... i alwais get stuck in the middle but im jus not gunna let that shit get to me. Emmanuel's being a douche and Keri... MY DEAR FRIEND KERI... has (i beleive) replaced me with some nasty look'n popeyed ugly cheap weave wearing lunatic... i feel so alone. And right before i left orlando my cousin got mad at me and is still not over it! and i aint do shiiit!
and my brother... dear old love of my life TEEJAY!.. hes quite a character. lets just say if we were in the same state we would have some PROBLEMS!
well im out... it was nice talkin about my problems with SOMEONE! holla atcha girl
CC's ^